News
Thursday, April 18, 2019 9:00 AM
State Attorney Dave Aronberg has been selected to speak at the Rx Drug Abuse & Heroin Summit in Atlanta on April 24th, which is the largest annual conference addressing the opioid crisis. Aronberg will join Washington, DC, attorneys Stacey Worthy and Daniel McClughen in a presentation entitled "A Sobering Task: Protecting the Health and Safety of People in Treatment and Recovery."

State Attorney Aronberg will be joined at the conference by Chief Assistant State Attorney Alan Johnson, who leads Aronberg's Sober Homes Task Force. The Sober Homes Task Force's crackdown on rogue sober homes and corrupted drug treatment centers was an important factor in Palm Beach County's approximate 40% decrease in opioid overdose deaths in 2018, compared to 2017.

At the four-day conference, more than 3000 participants share strategies on the opioid crisis with decision makers and allied professionals, and learn what is working in prevention, treatment and law enforcement. President Donald Trump and First Lady Melania Trump will address participants on April 24th. Notable headline speakers at the conference in past years have included President Barack Obama in 2016, Congressmen Patrick Kennedy and Newt Gingrich in 2017, and President Bill Clinton in 2018.

"I am honored to be participating in this prestigious conference," said State Attorney Aronberg, "and look forward to sharing Palm Beach County's success in saving lives from the opioid epidemic by cleaning up fraud and abuse in the drug treatment and sober home industries."

The Rx Drug Abuse & Heroin Summit will take place April 22-25 at the Hyatt Regency Atlanta. For more information on the conference, visit www.rx-summit.com.
xxx
---
Monday, April 15, 2019 10:09 AM
Bradley Vercosa's sober homes were 'flop houses' that 'preyed on' their residents, the family of a man who died in one said in court.

WEST PALM BEACH — Gail Smith asked Bradley Vercosa if he knew where he was Aug. 15, 2016. She said she remembered where she was: She was on the phone with her son, Kenny, who just turned 21. He was in addiction treatment and living in one of Vercosa's sober homes in South Florida. Gail Smith said they were planning a trip down to visit him...
---
Sunday, April 7, 2019 5:10 PM
His wife, daughter were among dozens arrested Tuesday in massive, multi-state kickback fraud

Steven Arnold Manko was arrested today and faces three charges of fraud in a patient-brokering scheme that has now led to three dozen arrests in Florida and Pennsylvania...
---
Tuesday, April 2, 2019 6:10 PM
Lake Park lab billed insurance companies $141 million in two years for urine tests, authorities said.

WEST PALM BEACH -- A Lake Park laboratory is at the center of a multimillion dollar patient-brokering scheme that has led to the arrest of 35 people in Florida and Pennsylvania, state attorney Dave Aronberg said Tuesday...
---
Tuesday, April 2, 2019 6:10 PM
A Palm Beach County drug testing lab and 10 South Florida treatment centers worked together to fraudulently bill more than $141 million in unwarranted urine testing of drug addicts, Palm Beach County State Attorney Dave Aronberg said Tuesday...
---
Tuesday, April 2, 2019 5:54 PM
WEST PALM BEACH, Fla. (CBS12) — Palm Beach County State Attorney Dave Aronberg announced Tuesday the Sober Home Task Force busted open a massive multi-state kickback scheme between drug treatment centers and a local drug testing lab...
---
Tuesday, April 2, 2019 5:51 PM
WEST PALM BEACH, Fla. — Fifteen people are behind bars in a multi-state drug treatment fraud investigation.

The arrests involve a Lake Park laboratory and 10 south Florida treatment centers, from Ft. Pierce all the way to Miami...
---
Tuesday, April 2, 2019 5:37 PM
Prosecutors in Florida on Tuesday announced 15 arrests related to drug abuse treatment that included individuals tied to a urine-testing lab used by Liberation Way in Pennsylvania.

The announcement by the office of State Attorney Dave Aronberg of Palm Beach County came eight days after Pennsylvania Attorney General Josh Shapiro lodged criminal charges against 11 people tied to alleged kickback and fraud schemes at Liberation Way, a treatment company that had two centers in Montgomery County...
---
Monday, April 1, 2019 10:00 PM
PALM BEACH COUNTY, Fla. — Palm Beach County State Attorney Dave Aronberg and other law enforcement officials will announce arrests in a multi-state drug treatment fraud investigation on Tuesday.

Aronberg is scheduled to hold a news conference at 2:30 p.m., where he'll be joined by the FBI, Justice Department, Palm Beach County Sober Homes Task Force, and the Pennsylvania's Office of the Attorney General...
---
Tuesday, March 26, 2019 11:57 PM
READING, PA —
Lisa Fobian cried Monday night as she absorbed the full magnitude of the alleged deception and lies at Liberation Way, the drug abuse treatment company where she worked for more than three years.

On Monday, Pennsylvania Attorney General Josh Shapiro announced the arrest of 11 owners, employees and people associated with the for-profit company and charges they ran a complex web of fraud and kickback schemes...
---
Monday, March 25, 2019 1:42 PM
Nicholas Cirio, the first person to be convicted by a jury for patient brokering in Palm Beach County, was sentenced by Circuit Judge Cheryl Caracuzzo.

WEST PALM BEACH — The first person to go to trial and be convicted by a jury of patient brokering in Palm Beach County was sentenced to nearly three years in prison Monday morning...
---
Thursday, March 21, 2019 12:02 AM
Men are dying after opioid overdoses at nearly three times the rate of women in the United States. Overdose deaths are increasing faster among black and Latino Americans than among whites. And there's an especially steep rise in the number of young adults ages 25 to 34 whose death certificates include some version of the drug fentanyl...
---
Friday, March 1, 2019 12:00 AM
"Mom, When They Look at Me, They See Dollar Signs"
How rehab recruiters are luring recovering opioid addicts into a deadly cycle.
---
Wednesday, February 13, 2019 6:17 PM
A six-person jury found 40-year-old Nick Cirio guilty of 10 counts of patient brokering.

WEST PALM BEACH — Assistant State Attorney Ashley Ackerman told the jury there were two words that were said over and over again throughout the trial of Nick Cirio: patient brokering. And, she said, they still may not know exactly what that means or still may be digesting the large amount of evidence, but she wanted to be clear on why they sat through three days of testimony this week...
---
Wednesday, February 13, 2019 5:01 AM
Efforts to rein in sober home industry abuses are finally paying dividends. A 42 percent dropin the number of fatal opioid overdoses in Palm Beach County alone is a testament to that fact.

But that progress is threatened by a ruling last week by Circuit Judge Laura Johnson that makes it almost impossible for prosecutors to go after unscrupulous drug treatment center operators and help save the lives of troubled patients...
---
Friday, February 8, 2019 7:00 AM
"Why couldn't I catch you?"
Willie Weatherley will ask that question long after the heartbreak of her loss subsides.

She will wonder why she survived her opioid addiction while her sister Jessica did not.

When last seen by The News-Press in December, Jessica Weatherley had made it into detox after a frustrated first attempt.

Lacking money or insurance, the young Fort Myers mother next went to a sober home on Florida's east coast where, far from the influence of using friends, Willie hoped she might stay on the recovery path...
---
Thursday, January 24, 2019 12:00 AM
Palm Beach County has been the epicenter of the opioid crisis in Florida. But data from the county's state attorney office shows opioid deaths decreased 41 percent from 2017 to 2018...
---
Thursday, January 17, 2019 4:15 PM
Almost three years after Palm Beach County officials set out to combat the opioid epidemic, it looks like their efforts are paying off: The State Attorney's Office reports there were 326 opioid deaths in 2018, down from 558 in 2017. That's a 41 percent decline...
---
Monday, January 14, 2019 5:19 PM
"The city and Palm Beach County State Attorney Dave Aronberg, who also was invited to serve on Moody's task force, found ways to force out disreputable sober homes and lessen the impact of the national epidemic."
---
Monday, January 14, 2019 12:18 PM
A Tequesta-area man is accused of paying to have patients sent to Reliance Treatment Center in North Palm Beach.

WEST PALM BEACH — A Tequesta-area man is charged with paying nearly a quarter-million dollars in kickbacks for referrals to his treatment centers....
---
Monday, January 14, 2019 10:06 AM
For the first time on record the odds of accidentally dying from an opioid overdose in the United States are now greater than those of dying in an automobile accident...
---
Tuesday, January 8, 2019 6:30 AM
Vermont's growing sober house industry is largely unregulated. A local nonprofit is aiming to change that by this summer. But currently, without oversight, there is no state assurances that these homes are safe for residents. A sober house, or a recovery residence, is a group drug-free home for people in recovery from addiction. Many people find support in these places. But around the country, unscrupulous sober house owners have taken advantage of people struggling with addiction, exploiting residents and, in some cases, leading them into relapse or overdose...
---
Wednesday, December 26, 2018 2:01 AM
Next year at this time, the number of overdose deaths in Jacksonville should have declined significantly. Project Save Lives should have moved from a pilot program to a permanent part of the city government with its own dedicated revenue source, supplemented by funds from a nationwide suit filed by the city and others against the opioid pill manufacturers...
---
Wednesday, December 26, 2018 12:00 AM
When the Justice Department in 2007 settled its criminal case against the maker of OxyContin, a high-powered painkiller, federal officials claimed a "victory" that would deter other companies from illegally marketing opioids...
---
Friday, December 14, 2018 3:01 PM
The Palm Beach County Sober Homes Task Force said it's the first arrests of these kind it has seen.

WEST PALM BEACH — A pharmacist and a "middleman" conspired to split thousands of dollars in insurance reimbursements from fraudulent prescriptions with an undercover police officer pretending to own a drug-treatment center, authorities said in announcing their arrests...
---
Wednesday, December 12, 2018 10:21 AM
Fentanyl is now the deadliest drug in America, federal health officials announced Wednesday, with over 18,000 overdose deaths in 2016, the most recent year for which statistics are available...
---
Tuesday, December 4, 2018 5:23 PM
Authorities say he paid sober homes thousands of dollars to refer patients to his Royal Palm Beach drug-treatment center.

A Wellington resident who owns a substance-abuse facility in Royal Palm Beach has been charged with 20 counts of patient brokering, according to a Delray Beach police report and court documents...
---
Tuesday, December 4, 2018 3:56 PM
Florida "has done more than any other state to reduce opioid sales," says ConsumerProtect.Com. The consumer group just released a study using data from the Drug Enforcement Agency...
---
Sunday, December 2, 2018 2:44 AM
China has agreed to reclassify fentanyl as a "controlled substance," in what the White House is calling a "wonderful humanitarian gesture" after the much-anticipated talks Saturday between US President Donald Trump and Chinese President Xi Jinping in Buenos Aires, Argentina...
---
Thursday, November 29, 2018 12:00 AM
A class of synthetic drugs has replaced heroin in many major American drug markets, ushering in a more deadly phase of the opioid epidemic...
---
Thursday, November 15, 2018 12:00 AM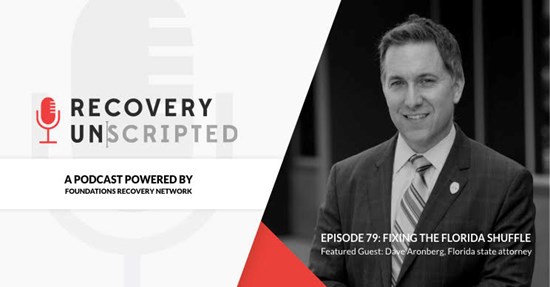 How can advocates make real strides in the opioid crisis when they have to fight against unethical practices in healthcare and bureaucracy in government? We'll dive into this with State Attorney Dave Aronberg on this episode of Recovery Unscripted. For more about Recovery Unscripted, visit http://recoveryunscripted.org. For more about Dave's fight, visit https://www.fixthefloridashuffle.com.

Additional audio links:
iTunes
Spotify
---
Wednesday, November 14, 2018 11:12 AM
The wife of a man arrested last week now faces 24 counts stemming from a sober home at a horse farm.
LOXAHATCHEE GROVES -- Four days after her husband was arrested on patient-brokering charges, a Loxahatchee Groves woman is in the Palm Beach County Jail facing similar charges...
---
Monday, November 12, 2018 7:48 AM
The co-owner of a sober home is facing 24 felony and one misdemeanor counts.
LOXAHATCHEE GROVES — The owner of a Loxahatchee Groves horse farm that doubled as a sober home was arrested Friday and is facing more than two dozen counts related to patient brokering, according to an arrest report...
---
Thursday, November 8, 2018 6:17 PM
SAN FRANCISCO — It has been dubbed "the Florida Shuffle." Drug addicts from across the country get lured to the Sunshine State for decades with the promise of treatment, only to be traded from one unscrupulous drug rehab to another. Meanwhile, the patient's insurance company gets milked for tens of thousands of dollars in fraudulent charges...
---
Thursday, November 8, 2018 6:05 PM
Timothy Schnellenberger and his wife face two dozen counts. They say they received 'incorrect legal advice.'
WEST PALM BEACH — The son and daughter-in-law of former FAU and University of Miami coach Howard Schnellenberger are facing two dozen counts of patient brokering, according to documents obtained by The Palm Beach Post...
---
Monday, November 5, 2018 12:03 PM
BOYNTON BEACH — A man who with his wife operated a drug-treatment center and sober homes in Boynton Beach has been charged with filing more than $70,000 in fraudulent insurance claims, according to reports...
---
Friday, November 2, 2018 7:00 PM
A serious issue that is affecting millions in our country and community is the opioid crisis. Hosts, Cynthia Heathcoe & Nicole Rymer are fortunate to talk to Palm Beach State Attorney, Dave Aronberg this week about the epidemic...
---
Friday, November 2, 2018 9:14 AM
A paper offers advice to places across the U.S. just now experiencing the problem Palm Beach County has faced for years.
Palm Beach County State Attorney Dave Aronberg and his office still get calls from other jurisdictions asking for advice. Last week, it was South Carolina. Earlier this year, he and others went to California to help draft legislation. Recently, they went to Washington, D.C., to testify before Congress. It's what happens when your county has been the epicenter for the opioid epidemic and you've had a few years to test and develop best practices...
---
Tuesday, October 23, 2018 6:17 PM
As if people addicted to opioids don't have enough trouble, shady operators have found a way to exploit them. Across the country, these "patient brokers" troll streets, drug courts and anywhere they might find people with addiction problems to lure them to treatment centers and "sober living homes" — usually illicit ones — in exchange for kickbacks. Internet and TV ads often promote the illegitimate facilities. And some phone hotlines, while offering to connect callers to legitimate treatment, instead collect referrals for facilities, selling them to the highest bidder...
---
Friday, October 19, 2018 9:45 AM
ARLINGTON, Virginia – The National District Attorneys Association's (NDAA) Opioid Working Group, comprised of 33 prosecutors from 30 states, published its Opioid Epidemic White Paper this week. After eight months of collaboration, the final product reflects the diverse views of prosecutors representing unique jurisdictions across the country...
---
Tuesday, October 16, 2018 6:00 PM
WEST PALM BEACH, Fla. (CBS12) — The Palm Beach County Medical Examiner's Office released new numbers Tuesday showing a 40 percent reduction in the number of opioid overdose deaths in the first nine months of 2018. The State Attorney for Palm Beach County Dave Aronberg credits multiple reasons for the reduced numbers, namely the availability of Narcan and the crackdown on sober homes...
---
Friday, October 5, 2018 5:40 PM
A man stands accused of first-degree murder after a deadly drug deal, marking a first in Palm Beach County under a new Florida law. Calvin Warren Jr. has been indicted on the murder charge after Thomas Matuseski overdosed from the fentanyl Warren provided, Palm Beach County State Attorney Dave Aronberg said in a news release Friday...
---
Thursday, October 4, 2018 12:04 PM
WASHINGTON - Marco Rubio isn't a big fan of the U.S. Senate's often slow-moving ways, but he managed to get a bill passed in less than six months that allows the federal government to crack down on non-reputable drug recovery homes...
---
Monday, October 1, 2018 9:45 AM
Inside America's opioid crisis: Dr. Dave Campbell appears on "Morning Joe"
---
Sunday, September 30, 2018 7:35 PM
"In the annals of 60 Minutes, we have rarely come across a doctor like Florida physician Barry Schultz. Prosecutors say he wantonly prescribed and sold massive quantities of highly addictive opioids. In July, Schultz was sentenced to 157 years for his role in fueling the most devastating public health crisis of the 21 century. Last year more Americans died of drug overdoses than in the entire Vietnam War. While Schultz ended up in jail, Mallinckrodt, the pharmaceutical company that flooded Florida with hundreds of millions of oxycodone pills, paid a relatively small penalty. The question now being debated in Congress and in federal court is: who is responsible for the opioid epidemic? The doctors who prescribed the pills or the opioid manufacturers and distributors who supplied them?" ....
---
Friday, September 28, 2018 6:10 PM
Amid partisan fighting over the future of the Supreme Court, Republicans and Democrats united to pass legislation Friday that supporters say will help put unscrupulous drug treatment providers out of business in South Florida and lower the region's opioid death toll...
---
Friday, September 28, 2018 3:07 PM
WASHINGTON, D.C. – A day after California took its first firm legislative steps to reign in an out-of-control addiction treatment industry – and three days after prosecutors in Orange County 1 Comment – Congress took on the next piece of the puzzle:

How to reconcile laws that protect the disabled with the need to ensure that sober living homes aren't dangerous flophouses? ...
---
Friday, September 28, 2018 9:55 AM
A Florida catastrophe — the opioid crisis — makes the 51st season premiere of "60 Minutes" this weekend.
The news magazine asks: Who is more responsible, doctors like Barry Schultz, or the manufacturers and distributors who supply huge amounts of the addictive drugs? ...
---
Thursday, September 27, 2018 3:55 PM
Pain clinic pioneer Barry Schultz, now sentenced by a Florida judge to 157 years in prison for drug trafficking, says he is a scapegoat. The mother of his patient who died of an overdose after Schultz prescribed him hundreds of opioid pills calls him a murderer. Bill Whitaker continues to investigate the origins of the opioid epidemic on the 51st Season Premiere of 60 Minutes, Sunday, Sept. 30 at 7:30 p.m. ET and 7 p.m. PT on CBS....
---
Tuesday, September 25, 2018 2:00 PM
State Attorney Dave Aronberg has accepted an invitation to testify on fraud and abuse in the sober home industry before the U.S. House Committee on the Judiciary's Subcommittee on the Constitution and Civil Justice. Aronberg, who leads a Sober Homes Task Force that has made 54 arrests for patient brokering and insurance fraud since October 2016, will provide a five-minute opening statement, followed by questions and answers. Judiciary Committee Chairman Rep. Bob Goodlatte (R-VA) extended the invitation for Aronberg to testify before the subcommittee, which includes local Congressman Ted Deutch (D-FL)...
---
Wednesday, September 12, 2018 8:29 AM
DELRAY BEACH — For the third time in 16 months, a Boca Raton man has been arrested on charges of patient brokering. David Remland, 54, is accused of paying kickbacks so that urine tests at a substance-abuse treatment facility based in New Hampshire would be directed to his Delray Beach lab, according to an arrest report...
---
Sunday, September 2, 2018 9:51 AM
Most legislation aimed at cleaning up California's dysfunctional addiction treatment industry slammed into brick walls, withered in suspense files or was watered down so much as to be unrecognizable – again...
---
Friday, August 24, 2018 10:00 AM
WEST PALM BEACH, Florida, August 24, 2018 - Targeting fraud and abuse in the drug treatment and sober home industries, Palm Beach County State Attorney Dave Aronberg announced today that he has launched a website, www.FixTheFloridaShuffle.com, to convince federal policymakers to change the laws that have unwittingly led to thousands of opioid-related deaths throughout the country...

---
Saturday, August 11, 2018 10:37 AM
As President Donald Trump's trade war with China continues to escalate, there is a more urgent issue with China that remains overlooked: the continued illegal importation into the United States of the deadly synthetic opioid, fentanyl...
---
Monday, July 23, 2018 12:00 AM
Last week, U.S. Sen. Marco Rubio, R-Fla., paired up with U.S. Sen. Amy Klobuchar, D-Minn., to unveil a proposal cracking down on patient brokering...
---
Friday, July 6, 2018 3:07 PM
WASHINGTON D.C. — Senator Marco Rubio posted on Twitter how he hopes a bill he's sponsoring will put an end to fraud in the residential drug treatment industry...
---
Friday, July 6, 2018 12:00 AM
As the opioid epidemic continues to rage across the United States, the Palm Beach County State Attorney's Office is embracing two new local statistics as evidence that their efforts to curb the county's crisis are working...
---
Thursday, July 5, 2018 1:28 PM
WASHINGTON - Marco Rubio is just as tired as you are of the ubiquitous commercial where a man in blue scrubs urges families beset by drug addition to call for treatment options...
---
Monday, July 2, 2018 10:04 AM
---
Friday, June 29, 2018 10:06 AM
Thanks to the opioid epidemic, more Americans die from overdoses every year than in car accidents, and the federal government is scrambling to try to get in front of the crisis. The House just passed and sent to the Senate a sweeping, bipartisan package of legislation backed by dozens of advocacy groups...
---
Wednesday, June 27, 2018 12:00 AM
In 2011, a national heroin epidemic was the equivalent of dry tinder, lacking only a match. Florida lit it up. Purdue Pharma and El Chapo had provided kindling: The pharma company's unprecedented marketing campaign for its blockbuster OxyContin painkiller did not stop with pill sales. Purdue marketing helped ensure that for the first time in U.S. history, heavy doses of one of the most addictive substances known to man would be prescribed by family doctors for everything from sprained ankles to migraines...
---
Monday, June 18, 2018 12:00 AM
Palm Beach County State Attorney Dave Aronberg received an award this month for his work tackling fraud in the sober home community across the county...
---
Friday, June 8, 2018 7:00 PM
When the boss calls you into his office, it's always a big deal. And so it was in the fall of 2001, when I was a 30-year-old assistant attorney general in the economic crime division. The boss — Attorney General Bob Butterworth — handed me a magazine article about people with sports and workplace injuries who became addicted to a new painkiller, OxyContin, manufactured by Purdue Pharma. Butterworth was concerned that Purdue Pharma was marketing OxyContin deceptively and too aggressively, leading to overprescribing, addiction and, in many cases, death...
---
Friday, June 1, 2018 12:00 AM
Two men connected to a Delray Beach-area lab linked to kickbacks for urine tests for people in treatment and recovery for substance abusehave been arrested, a day after three men also were charged in the scheme...
---
Sunday, May 20, 2018 11:00 PM
Caution - Adult content in the following video:
---
Monday, May 14, 2018 12:00 AM
"Sober living homes," or "recovery residences" as they are also known, are group homes that bring together multiple unrelated individuals who are in drug recovery and pursuing sobriety. What could possibly be harmful about such places of healing, hope and support? Nothing, in the case of the many responsible residence owners who mean to help the homes' inhabitants...
---
Wednesday, April 25, 2018 12:00 AM
Florida is the nation's second most popular destination for for-profit drug detox, and Palm Beach County is the state's leader in that respect. As of April 1, it was home to 185 of Florida's 771 licensed drug treatment facilities. As impressive as those numbers are, each total has shrunk markedly from just eight months ago, when the county had 207 of the state's 953 facilities. The sudden downsizing reflects, at least in part, the shutdown and flight of bad actors in the face of a crackdown on fraud by the Palm Beach State Attorney's Office, which has made 45 industry arrests in the last year and a half, obtaining 16 convictions so far...
---
Thursday, April 19, 2018 12:00 AM
After a temporary hiatus, Google has reopened the sale of AdWords in the addiction treatment market under a new policy. The policy requires a 12-measure certification process for advertisers, and some of the finer details will emerge as the standards are put into everyday practice...
---
Monday, April 16, 2018 12:03 PM
SAN FRANCISCO (Reuters) - Google told Reuters Monday it would resume accepting ads from U.S. addiction treatment centers in July, nearly a year after the Alphabet Inc (GOOGL.O) unit suspended the lucrative category of advertisers for numerous deceptive and misleading ads...
---
Wednesday, April 11, 2018 6:49 PM
State Attorney Dave Aronberg says there are now 14 opioid related deaths a day in Florida today. He says that's reason enough to stand beside the county in its legal battle against a slew of pharmaceutical companies with opioid addiction holding strong, Palm Beach County filed a lawsuit against several pharmaceutical companies, alleging they prioritize profits over people's lives...
---
Tuesday, March 27, 2018 5:00 AM
Orange County District Attorney Tony Rackauckas recently created a task force to handle abuses in the anti-addiction industry in the "Rehab Riviera." Rackauckas is hoping to repeat the success of Palm Beach County State Attorney Dave Aronberg, who created a similar task force two years ago. Since then, Palm Beach officials have made 44 rehab-industry related arrests...
---
Monday, March 19, 2018 12:00 AM
As our country faces an unprecedented opioid epidemic that takes at least 115 lives each day, you may have noticed a new neighbor on your block. Without fanfare or neighborhood notification, the house next door may now be a "sober home" or "recovery residence," where multiple unrelated individuals in drug recovery live together in pursuit of sobriety. There is no medical treatment inside these residences. They are just a communal living space where residents usually attend outpatient rehab at a nearby facility. The best of these homes are the ones you never even notice are amongst you. The worst degenerate into flophouses, where unscrupulous landlords exploit people with substance use disorder for money or sex, and encourage relapse over recovery...
---
Wednesday, March 14, 2018 12:00 AM
ORANGE, CA (MARCH 14, 2018) – The Association of California Cities– Orange County (ACC-OC)— the region's leading public policy, strategy, education and advocacy group— announces a collaborative engagement visit with Florida State Attorney, Dave Aronberg on the complex issue of sober living reform. On March 20, 2018; Aronberg, a prominent national voice on sober living issues will visit Orange County to meet with officials and local leaders. Aronberg will participate in a roundtable discussion during his visit, addressing stakeholder concerns and answering questions on the necessity of sober living reform...
---
Thursday, February 1, 2018 12:00 AM
The deadliest drug crisis in American history won't be solved by just researchers, law enforcement or recovery treatment providers. But put them all in the same room to brainstorm, as Florida Atlantic University did Wednesday, and the result is steps toward a multi-pronged approach to tackle addiction...
---
Wednesday, January 31, 2018 7:37 PM
PALM BEACH COUNTY, Fla. - This is the Ambrosia Treatment Center on Singer Island. Jerry Haffey with the treatment center said, "I hate seeing kids dying in closets because of scum bag providers." He's clearly passionate about helping people beat substance abuse. But Haffey knows treatment centers around here have a bad reputation. That's why he joined forces with State Attorney Dave Aronberg to lobby for money to fund the Sober Homes Task Force...
---
Wednesday, January 31, 2018 12:00 AM
Palm Beach County State Attorney Dave Aronberg was picked to lead a panel of prosecutors across the country to come up with "best practices" to deal with the opioid crisis...
---
Wednesday, January 31, 2018 12:00 AM
---
Tuesday, December 12, 2017 5:41 PM
Palm Beach County State Attorney Dave Aronberg is testifying Tuesday on Capitol Hill in Washington, D.C., regarding the opioid crisis. Aronberg told NewsChannel 5 the federal government needs to do its fair share, noting that corrupt individuals continue to exploit well-intended federal laws to prey upon opioid addicts...
---
Tuesday, December 12, 2017 12:39 PM
WASHINGTON — The congressional representatives sitting on the House Subcommittee on Oversight and Investigations wanted to hear about patient brokering and sober home fraud. Tuesday morning, they got an earful from Palm Beach County State Attorney Dave Aronberg and his chief assistant, Al Johnson...
---
Monday, December 11, 2017 12:00 AM
---
Wednesday, September 20, 2017 12:00 AM
As so often happens, a frantic mother called us about her 19-year-old daughter, who I'll call Jen. A heroin addict, Jen had been shuttled between multiple treatment centers and sober homes by greedy marketers looking to cash in on the teenager's insurance benefits by keeping her perpetually in recovery, but never sober. As our investigator searched Palm Beach County for Jen, her mother finally reached her by phone. She pleaded with her daughter to leave Florida, to which Jen replied, "Why would I come home? I have all I need here." In the ensuing months, Jen has become a victim of a vicious cycle known as "the Florida shuffle." She has continued in and out of treatment, repeatedly relapsed and overdosed, been on the brink of death, was revived and all the while trafficked by marketers offering free rent and other gifts — as she ignores her mother's desperate pleas to come home...
---
Tuesday, August 15, 2017 12:00 AM
In July 2016, our office established a task force into abuses in the drug treatment industry, including "sober homes." Sober homes are group residences designed to help recovering drug and alcohol addicts, including those attending outpatient treatment programs, transition back into the community. Unlike drug treatment centers, sober homes are unregulated, which is why they are proliferating throughout our residential neighborhoods. Because there is no regulation or oversight, there is no accurate count of how many exist. Government officials who seek to regulate sober homes through local ordinances or zoning laws have been thwarted by the Americans with Disabilities Act (ADA) and the Fair Housing Act (FHA)...
---
Thursday, August 10, 2017 7:25 AM
Delray Beach's charming downtown, palm trees and waves attract locals, vacationers and, increasingly, drug users who come here to try to get off opioids. In some parts of the small Florida community, there's a residential program for people recovering from addiction — a sober living house or "sober home" — on nearly every block. Sometimes two or three...
---
Thursday, August 10, 2017 12:00 AM
Law enforcement has been cracking down on corruption in South Florida's drug treatment industry. State and federal officials have arrested more than 30 people for running scams in rehab centers or sober homes in the past year...
---
Tuesday, August 8, 2017 12:00 AM
State legislators came to Palm Beach County Tuesday to discuss the opioid crisis. County officials, first responders, treatment professionals and advocates offered up stories from the front lines and ideas for reducing overdoses and deaths...
---
Friday, August 4, 2017 12:00 AM
---
Sunday, June 25, 2017 11:46 PM
PALM BEACH COUNTY, Florida — For the first responders who found her lifeless body one October morning, 24-year-old Alison Flory was yet another casualty of addiction here on the front line of Florida's opioid crisis...
---
Sunday, June 25, 2017 12:00 AM